Visions of Jesus Reveal the Truth
Jesus Wants all Muslims to Be Saved
Visions from Jesus Reveal the truth of Islam.  Jesus has an important message for the world. Jesus has appeared in remarkable visions to me, revealing important truths of the last days. In one vision Jesus appeared as the only living tree, the glorious Tree of Life, in a huge forest of dying trees. Jesus demonstrated he is the only way, the only path to eternal life. In another vision, Jesus appeared to me as the loving Good Shepherd welcoming new believers running away from Islam, proving Jesus loves Muslims.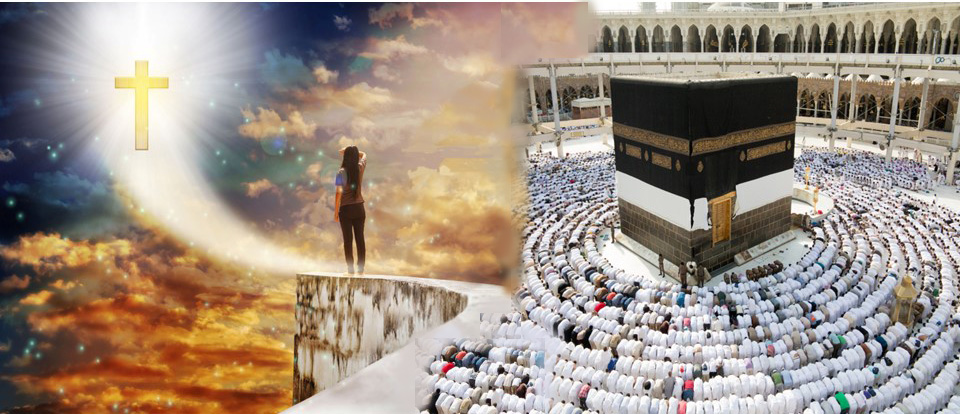 LINK TO VISIONS OF JESUS VIDEO
Jesus gives proof he is the only path to life in another one of my visions. I was walking with a Muslim man seeking God. We were both seeking heaven. Suddenly we were falling faster and faster through a wormhole like opening in a circular wall of energy and light. The walls of the abyss were a bluish-black and seemed to be flowing energy. We moved faster and faster until when it seemed like we could go no faster we came out the other side into outer darkness without hitting any bottom. The Muslim man last said to me; "So this is where I stay?"
Jesus Warned About a Coming False Text
Visions from Jesus Reveal the truth of Islam.  Jesus wants you to understand He is the sacrifice and oblation that the prince to come, Allah of the Qur'an, attempted to stop. In a vision to me, Jesus revealed people standing in line for Holy Communion. There was a young girl, perhaps twelve years old, standing in line. She had a loaf of bread in her hand. I then saw three tough looking demonic men standing further back in line. Then they surrounded the girl and forced her hands open. They took the bread out of her hands and were proud of what they did. They were agents of Allah to take away the oblation. Jesus is the only sacrifice that matter to God.
The Qur'an Takes Away the Lord's Supper
Jesus Fulfilled 351 Old Testament Prophecies
John 5:24-27 (NIV)
24 "Very truly I tell you, whoever hears my word and believes him who sent me has eternal life and will not be judged but has crossed over from death to life. 25 Very truly I tell you, a time is coming and has now come when the dead will hear the voice of the Son of God and those who hear will live. 26 For as the Father has life in himself, so he has granted the Son also to have life in himself. 27 And he has given him authority to judge because he is the Son of Man."