Erdogan of Turkey Brings Kaaba Cloth
Image of the Beast Cloth Displayed at Muhammad Ali's Funeral
Beast image Kaaba cloth Erdogan displayed at a funeral for Muhammad Ali.  Jesus warned us about the beast and a False Prophet.  Listen to Jesus.  Baal was placed in the Abyss by God (Isaiah 14 and Jeremiah 51).  The False Prophet was Mohammad.
Turkey's Islamic President Erdogan flew specially to Louisville this week to say farewell to boxing legend Muhammad Ali, who the Turkish president is known to have admired hugely as a committed Muslim.  Erdogan has been active recently both in criticizing Israel and seizing Christian churches in Turkey.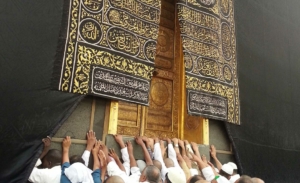 Erdogan attended an Islamic prayer ceremony for Ali and had been due to attend the funeral on Friday along with several other high profile leaders.  He wanted to lay a piece of cloth from the Kaaba Blackstone, but was told no by organizers. It is not known why they would not allow a piece of cloth from the Kaaba Blackstone to be placed on the coffin.
Video identifying Baal as Beast of Revelation is here:
What is the Kaaba Blackstone?  Revelation 13 tells us the false prophet sets up an image of the beast. The image of the beast was set up by Mohammad himself. This is the Islamic Kaaba Blackstone in Mecca.  It is the central part of the Islamic pilgrimage. The two Kaaba gold doors alone contain nearly 660 pounds of gold and are worth $16 million.
Mecca is the harlot city described in Revelation 17 and 18. The gold and piece of special scarlet cloth from the image of the beast is further described, after Mecca is destroyed, in Revelation 18:11.
Revelation 18 (NIV)
"The merchants of the earth will weep and mourn over her because no one buys their cargoes anymore— cargoes of gold, silver, precious stones and pearls; fine linen, purple, silk and scarlet cloth"
Why Everyone Should Mourn for Muhammad Ali's Soul
Boxing legend Muhammad Ali died.  Let us begin by recognizing him as one of the world's greatest boxers and a champion of civil rights.  We should also note when Ali was a young man, white America did not treat him with respect and dignity. Christians should have done better.
He suffered from Parkinson's disease and probably died too young.  But it is not really his death that we mourn.  What we should mourn is the loss of his soul. This loss was not mentioned in any of the eulogies for him–even from the Christian speakers.  Of course we should never speak ill of someone who has just died while his family is still grieving, but there is a message in this for everyone.  This message is for all Christians, Muslims and Jews.
Many are not aware that when Cassius Clay became Muhammad Ali and announced his conversion to Islam (the Nation of Islam at the time), several prominent black sports figures such as Jackie Robinson and Floyd Patterson strongly objected to his decision. They felt leaving Christianity was a huge mistake.  It was.
Why did he leave the only path of salvation from Christ and convert to Islam?  We will probably never know for sure.  We do know Ali saw the image of the beast, which is the Kaaba Blackstone in Mecca.  Here is what Muhammad Ali said about his first experience with the image of the beast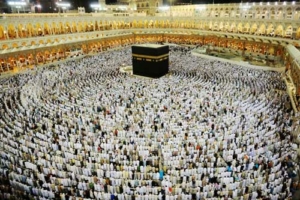 in Mecca:
"I have had many nice moments in my life. But the feelings I had while standing on Mount Arafat (just outside Mecca, Saudi Arabia) on the day of the Hajj (the Muslim pilgrimage), was the most unique. I felt exalted by the indescribable spiritual atmosphere there as over one and a half million pilgrims invoked Allah to forgive them for their sins and bestow on them His choicest blessings."
Without accepting the sacrifice of Christ, sins cannot be forgiven.  All the non-believers that kneel in front of Christ on the day of judgment will wish for death–rather than eternal separation of their souls from God.  This is what John meant in Revelation 9:6.
Revelation 9 (NIV)
"During those days people will seek death but will not find it; they will long to die, but death will elude them."
Let us pray Muslims can find the truth of Jesus while there is still time.
Share this video with Muslims giving the truth of Jesus:
Here is more information on the News Story.
Click here to email us.