Islamic Terrorism Opposes Jesus as Son of God
Christians understand Islamic terrorism opposes Jesus as the Son of God.  Muslims respect Jesus as a prophet, but some fight to remove Him as the Son of God. The Koran says Jesus is just a messenger, while the Bible repeatedly tells us Jesus is God. There is no path to heaven but through the sacrificial death and resurrection of Jesus.  Faith in Jesus washes away our sins.
The Gospel of John in Arabic and English is here:
There is a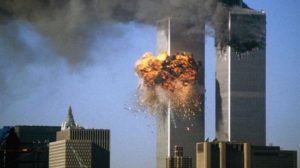 broad based spiritual and physical war occurring in the Islamic world today.  The top 10 physical wars in the world today are all in Islamic countries.  The pace is increasing, not decreasing.  Although the attacks of 9/11 were 15 years ago, the world is far less safe today.  Why?  The problem is an idea—Tawhid.   This idea cannot be defeated by armies.  Only the return of Christ will defeat Tawhid.  The spiritual battle is about Tawhid—the oneness of Allah—and any belief in Jesus as God, or the Holy Spirit as God must be punished.
This past Sunday, America and the world remembered the terrorist attacks of September 11, 2001 in which nearly 3,000 American died.  America has been fighting a 15 year war in Afghanistan, and yet recent reports indicate the Taliban is regaining strength.  America invaded Iraq in 2003, and unleased Babylon and ISIS.  Now Islamic Turkey has invaded Syria and is now intent on eliminating ISIS in Syria.  After gaining control of most of Syria, Turkey will likely link up with Iran (Persia).  The invading countries of Ezekiel 38-39 are lining up in formation.
Why Did Osama Bin Laden Attack America, What Did He Want?
The clearest way to understand why 9/11 attacks occurred is to read the 1998 Fatwa and 2002 Letter to America, both from Osama Bin Laden.
In his 1998 Fatwa, Bin Laden gives three justifications for future Islamic attacks against America:
1. Since 1990 Gulf War, the United States ("non-believers in Tawhid") have been occupying the lands of Islam in the holiest of places, the Arabian Peninsula.
2. Iraq sanctions were hurting Muslims, and
3. Support for Israel