Iran (Persia) and Turkey Hold the Islamic Invasion Road to Israel
Islamic Israel invasion road is now complete across Iraq and parts of Syria.  American military intervention in the countries around Israel has set the stage for Ezekiel's war.  The Islamic State in Iraq and Syria ("ISIS") took over in much of Iraq and Syria after the 2003 U.S. invasion of Iraq and subsequent 2011 U.S. departure.  For most of the United States' allies in the Middle East, the war against ISIS never was the primary concern.  These reluctant nations largely humored Washington, gave speeches and weakly joined its international coalition — and looked the other way.
When the United States invaded Iraq 14 years ago to topple Saddam Hussein, it saw Iraq as a potential cornerstone of a democratic and Western-facing Middle East, and vast amounts of blood and treasure — about 4,500 American lives lost, more than $2 trillion spent — were poured From Day 1, Iran saw something else: a chance to make a client state of Iraq and create an invasion road to Israel.  Turkey saw the same thing.
What America has never understood is
the real issue is the war coming
after the war against the Islamic State.
To many Iraqis, the destruction of Mosul's iconic al-Hadba minaret this month symbolized the defeat in Iraq of ISIS.  It was under this minaret, in al-Nuri Mosque, that Abu Bakr al-Baghdadi had declared his "caliphate" — and now it has been destroyed by the jihadi organization in the face of the Iraqi security forces' advance.  Yet the shape of this defeat, and the likely trajectory of a "post-Islamic State" Iraq, is now clear.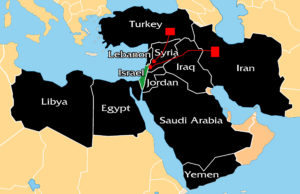 Should not everyone cheer the defeat of ISIS?  The real winners are Turkey ("Beth Togarmah") and Iran ("Persia").  Each of these two countries now has a land route into Israel, something that has not existed since the Persian Empire and the Ottoman Empire.