What Does the Referendum in Turkey Have to Do with Ezekiel's War?
It is no coincidence that on Easter Sunday April 16, 2017, Turks will head to the ballot box in a major referendum on replacing the current parliamentary system with an executive presidency.  They are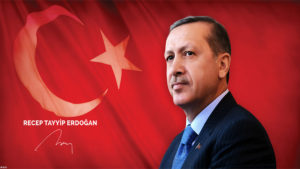 creating Gog.  Turks are voting to end democracy and put in place an Islamic dictator.  When in history has a democracy ever voted to end itself?  But it is part of God's plan toward Ezekiel's war which will be led by Gog.  The walking pace has become a running pace now.  When the Turks pass this referendum, Erdogan will have as much absolute power as Adolph Hitler held in the time period just before World War II started.
Actions of the United States facilitated the rise of Gog.  In recent years United States removed secular dictators in Islamic countries under the "War or Terror" strategy.  There was no plan on what to do next.  The strongmen were quickly replaced with Islamic Chaos.  We removed Saddam Hussein from Iraq, Muammar Gaddafi from Libya, and Hosni Mubarak from Egypt.  Just two weeks ago U.S. Secretary of State Tillerson said the fate of Syrian president Bashar Hafez al-Assad "was up to the Syrian people."  Now this week the Trump administration announced removing Assad is the "top priority."
Out of this Islamic Chaos will come a strongman that can unite all the Islamic factions–this is Gog.  Ezekiel's war will also move faster towards reality when America moves it embassy in Israel to Jerusalem.